Keeping track of people, teams, vehicles and equipment is of great importance in our line of work. Not only does it help in keeping track of work progress and asset availability but it is also a plus from a security perspective.
Knowing where a team or an individual is located, or their last known location if they are suddenly not contactable helps in responding to emergency needs of personnel. For the past 2 years I have used the Globalstar SPOT Gen3 tracker.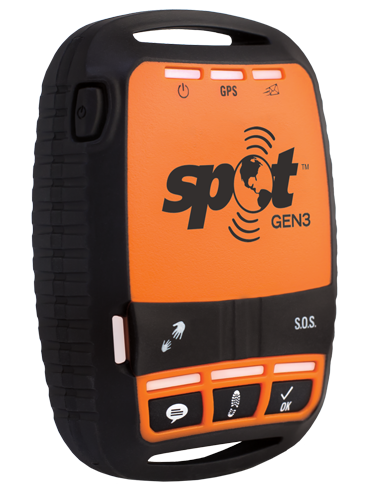 Size:
3.43" (8.72 cm) x 2.56" (6.5 cm) x 1" (2.54 cm)
Operating Altitude:
-328ft to +21,320ft (-100m to +6,500m)
Operating temperature:
-22F to 140F (-30C to 60C)
Weight:
4.0 oz (114g) with Lithium batteries
Waterproof rated:
IP67 (1 m for up to 30 Minutes and dust proof)
Humidity rated:
MIL-STD-810F, Method 507.3, 95% to 100% cond.
Vibration rated:
Per SAE J1455
Battery type:
- 4 AAA Energizer Ultimate Lithium 8x batteries (L92)
- 4 AAA Energizer® NiMH rechargeable batteries (NH12)
- Line Power with a 5v USB connection
Features:
The SPOT device has a number of functionalities, aside from tracking movement it also has messaging functions that allows you to communicate your location, progress and situation. The easiest of these is the "check-in" message. This allows you to send a pre-programmed text message with GPS coordinates or an email with a link to Google Maps™ to your contacts with your location. Next is the basic alert function, this allows you to send an alert to your personal contacts that you need help in non-life-threatening situations (service is chargeable!). Then there is the SOS button, when you press this (clearly marked) button it sends a message to the  GEOS International Emergency Response Coordination Center which will provide your GPS coordinates and information to local response teams (service is chargeable!) Finally there is the custom message function. You can program this message before your trip and when pressing this button it will send this message together with your GPS coordinates to the pre-programmed contacts. The custom message and check-in can also be shared via social media platforms such as Facebook.
The SPOT tracking function is the one you will use most. It can be set to upload the location of the device every 2½, 5, 10, 30 or 60 minutes. The location can then be tracked via a cloud based mapping service. This mapping service has two levels, there is the secure one which is what the organisation tracking teams of personnel will access but it also creates a publicly accessible online map which can be shared or embedded in a website.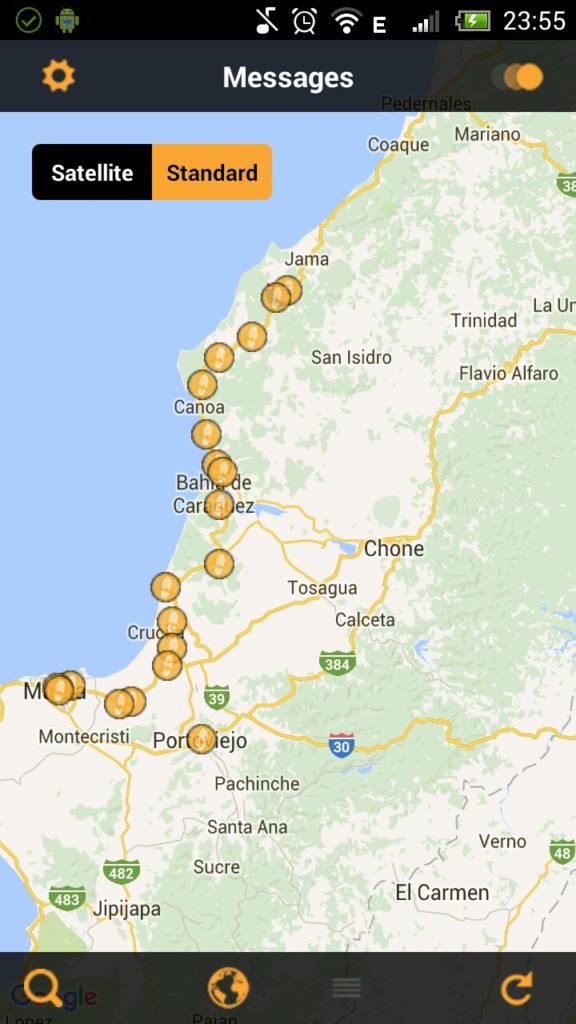 There is also the SPOT app which allows you to track and manage one or more SPOT trackers from your Android or iOS device. As you can see in the above image the mad creates a series of markers on a map, you can then click on each marker to view the details (time, date & coordinates).
The device itself has a rugged construction and is waterproof rated at IP67 (1 m for up to 30 Minutes and dust proof) so you don't have to worry about it getting wet. The buttons are easy to use but recessed enough to make sure that you do not press them by accident. The device is quite small (8.72 cm x 6.5 cm x 2.54 cm) and lightweight at 114 grams including batteries. It is supplied with a nylon strap and a carabiner so that you can easily attach it to your pack or vehicle. Power is supplied by 4 AAA batteries.
Verdict:
After using these for 2 years I have very little complaints. Before using it for the first time you will need to set it up by connecting it to a laptop or desktop computer. This will allow you to create a user and device profile as well as set up your custom messages and tracking frequency. You can also update the firmware at this time (recommended). Once switched on it gets a fix on the required number of satellites within a few minutes. This takes even less time if you have used the device recently in the same area. Once it has been powered just clip it to your pack or anywhere else where it has an unobstructed line-of-sight to the sky. Yes this is *important*. As with any satellite communications device it needs to be able to "see " the sky in order to establish a connection. The Spot tracker will work inside buildings if you stay close to a window but in general you will need to use it outside.  And that is about it, you're good to go. The device will send back your location at preset intervals.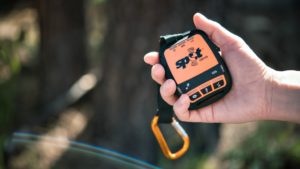 Using the SOS function or sending preconfigured messages is as easy as pressing the applicable button on the front of the device. A light serves as a visual indicator as to what message has been sent. The SOS button also has an extra cover so that you cannot send an SOS alert by mistake.
One minor complaint is that it does not come with an internal rechargeable battery. If you want to use rechargeable batteries you will need to remove them and use a separate charger. However considering the affordable price of the SPOT 3 I think that should not be a big issue. On longer deployment where power was an issue we set up check-in scheduled with our teams where they would power on the tracker at pre-arrranged times. That way we could track these log-ins and if a team missed 2 log-ins we knew that there was either an emergency or device failure and escalated a response. By using this procedure we manage to limit battery use to 4 hours per day rather than 24.
The message functionality is also very good with 90% of the sent messages delivered within minutes of being sent. Accuracy of the tracker has also proven to be good.
While the SPOT Gen 3 is not the top of the line tracker it is a very solid device with a lotto useful features. At the very affordable price of $169 and low cost of use we can recommend it highly for use by individual aid/relief workers as well as larger organisations.
For more details see the Globalstar product page.
Please follow and like us: